GET MORE ENJOYMENT FROM YOUR POOL OR SPA


Add to your comfort and extend your swimming season with our energy-efficient and reliable heaters. Our heaters deliver fast heat-up times, low operating costs, and long life. Rugged housings are built to withstand the elements, and compact, attractive designs blend into any environment.
Nothing beats a heater for adding comfort to early morning lap sessions, after-dark swims or to extend your swim season to earlier in the spring or later in the fall. The key to pool heating economy is combustion efficiency…making sure the heat that is generated is transferred to the pool water with as close to 100% efficiency as possible. Our high efficiency gas heaters heat up fast. They are economical to run. And they're built to last.
Max-E-Therm® Heater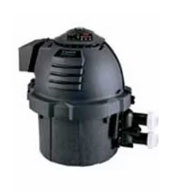 Sure, a beautiful pool looks inviting, but its cold water can keep you high and dry. Which is why it pays to have a Max-E-Therm heater. After all, when the water's just right, you maximize the enjoyment of your pool experience. The fast-heating
Max-E-Therm heater
makes your pool irresistible on cool nights. It also allows you to extend your pool season. Unlike other heaters, the Max-E-Therm heater offers you the latest advances from Sta-Rite: a rustproof exterior, smart electronics and increased energy efficiency. Whether you're looking for quiet relaxation or wild fun, you'll always enjoy your pool in the warm comfort of a Max-E-Therm heater.
High efficiency rating makes the Max-E-Therm heater extremely economical to operate.
Specially designed fueling and ignition process permits faster warming of your pool and spa.
Easy-to-read, conveniently positioned control panel is simple to program.
Dura-Glas™ Housing will not corrode and stands tough against harsh weather.
If you want that warm-all-over feeling, choose the Sta-Rite® Max-E-Therm heater. It's a better choice for a host of reasons. An Eco Select® Brand Product The Eco Select brand identifies our "greenest" and most efficient equipment choices. Max-E-Therm heaters offer best-in-class energy efficiency*. Plus, they are certified for low NOx emissions, making them eco-friendly favorites.
Need more help? We would love to help you with your heater questions.
To speak with someone about pool heaters, please call 610-889-0711.