ROBOTIC POOL CLEANERS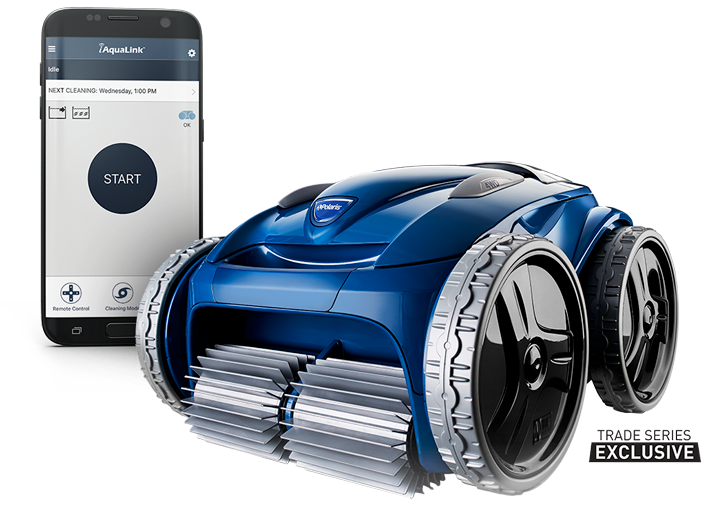 Robotic cleaners provide for the ultimate in pool cleaning experience. These cleaners have a self contained filtration system that doesn't put any additional wear on your existing pool equipment. These cleaners simply require an outlet to operate. Just plug it in, submerge the cleaner underwater, press the power button, and let the cleaner do the rest! Hate cleaning those filthy pool walls? Most models will even clean them for you.
POLARIS ROBOTIC POOL CLEANERS ALSO FEATURE:
Maximum Energy Efficiency: Costs just pennies per day to operate.
Rear Water Cleaning Stream: Blows debris off stairs and out of tight corners.
Aqua-Trac Tires: Durable tires are suitable for all in-ground pool surfaces.
Oversized Suction Intake: Able to ingest larger debris.
Quick Cleaning: Cleans pool in as little as 1.5 hours.
Connect to Home Wi-Fi for Access Anytime, Anywhere
The Alpha IQ+ is a 4WD robotic cleaner that provides premium cleaning performance with the convenience of iAquaLink Control. By connecting to your home's Wi-Fi network, the Alpha IQ+ allows anytime, anywhere access to real-time scheduling programming, and troubleshooting from any smart device using the iAquaLink app.
---
Features
iAquaLink™ Control – Connect to home Wi-Fi for access anytime, anywhere
Intuitive Convenience at Your Fingertips – remote control, recurring cleaning schedules, Easy Lift System and more
Easy to Monitor Cleaner Status – with dirty canister indicator, countdown timer, and troubleshooting tips
Tangle-Reducing Swivel – low-torque watertight swivel keeps cable from tangling during operation, and is now available on all Polaris 4WD robotic cleaners
4-Wheel Drive – climbs over obstacles and won't get stuck
Need more help? We would love to help you choose the right pool cleaner.
To speak with someone about pool cleaners, please call 610-889-0711.