HIGH EFFICIENCY FILTRATION SYSTEMS FOR SPARKLING CLEAR WATER
By removing impurities such as dirt, leaves, grass, hair, body oils, sunscreen, and even many bacteria from the water, our high efficiency filters keep your pool water clean, clear and inviting.
Cartridge
FILTER WITH THE LOWEST MAINTENANCE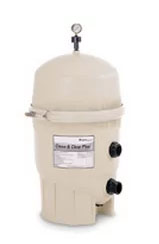 Our cartridge filters' proven design uses special filter elements to strip particles from pool water with great effectiveness. Maintenance? Open the top. Remove the cartridge. Hose it off. What could be simpler? Crystal Clear Water the Easy Way The Clean & Clear Plus filter combines top-end filter performance with low maintenance. Filter particles as small as 20 microns (an average grain of beach sand is 1,000 microns). Our four-cartridge design provides maximum filter surface area to capture more dirt and extend time between cleanings. 
Four-cartridge design traps more dirt and extends time between cleanings.
Cartridges are easy to remove and rinse.
Clamp ring allows easier access to cartridges and internal parts to speed service routines.
1½" drain is easy to access and located to ensure complete draining during winterization.
Fiberglass-reinforced polypropylene tank is strong and corrosion resistant for extra long life  

D.E. FILTERS THAT MAKE WATER REALLY SPARKLE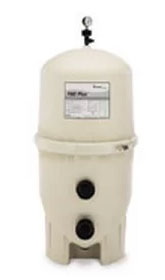 Diatomaceous earth, or D.E. for short, is a natural substance that traps dirt and debris as small as five microns (1/10 the width of a human hair). That means body oils, suntan lotions, pollens, dust and even some bacteria are caught in a D.E. filter, leaving behind sparkling clear, healthier water. We've maximized the filtration area, which means longer periods between cleanings. Pentair D.E. filters require the least amount of pumping power to achieve a needed flow rate, lowering your utility costs.
Here's why diatomaceous earth filters work so well. Water passes through a series of D.E. coated grids. Under a microscope, D.E. looks like a collection of tiny sponges. And just like a sponge, water can pass through, but microscopic impurities like dirt, algae and some forms of bacteria can't. FNS Plus filters have been designed with curved grids to maximize filtration area.
FNS Plus filters were also designed for easy maintenance and long-term reliability. So you can count on them to keep your pool's water clean and crystal clear for years to come.
Curved vertical grids provide maximum filter surface area for greater dirt-trapping capacity and longer periods between cleanings
Internal design ensures optimum filtration and backwashing efficiency.
Chemical resistant, fiberglass-reinforced polypropylene tank for exceptional strength and longer life.
Easily removable filter grid pack to simplify maintenance and save you time.
Need more help? We would love to help you choose the right filtration system.
To speak with someone about pool filtration, please call 610-889-0711.