Cartridge Filter
FIBERGLASS REINFORCED POLYPROPYLENE TANK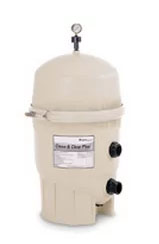 Clean & Clear® Plus Cartridge Filters have a corrosion resistant injection molded filter tank featuring superior strength and reliability. The cartridge assembly uses four easy to clean, non-woven, polyester cartridges. Each filter is supplied with a bulkhead union set for easy installation.
Brochure
Features
NSF listed
Superior strength
Large filter area for increased dirt capacity
1-1/2 in., 100% drain clean-out port
Continuous High Flow™ internal air relief*
Base and plumbing kits now available
Injection molded tank
Balanced hydraulic flow
Tension Control™ clamp
100% factory tested
Black bulkhead unions

To speak with someone about pool filtration, please call 610-889-0711.